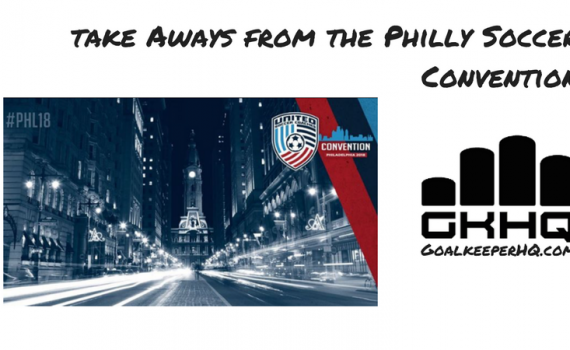 I attended the United Soccer Coaches Soccer convention in Philadelphia earlier on in the year. It was the first time I had been in six years and was excited to see sold old work colleagues but also to really educate myself on the latest goalkeeping trends.
Here are the field sessions or classroom sessions I attended.
Functional Training for Goalkeepers – Mike Crane (Florida Atlantic University) & Andrew Sparks (Swansea City)
Goalkeeping Trends in the College Game – Chris Rich (Duke University) & Tim Wassell (Penn State University)
Modern Trends in Goalkeeping – Lisa Cole ( Papa New Guinea U20 WNT)
Training Concepts for Youth Goalkeepers – Karl Spratt (NE Revolution) & Jason Grubb (Houston Dynamo)
Team Games that Integrate the Goalkeeper – Kat Mertz (University of Oregon)
Effective Strategies for Players with AD/HD – Shawn Danhouser (US Youth Soccer Midwest region)
As we preach at Goalkeeper HQ, it was stated that the modern day goalkeeper's job is different from 20 years ago and it can be argued that the goalkeeper's job has changed in the last five years or so. This is because the game itself is evolving.
There is now an attacking trend in the game, which lends itself to playing three defenders at the back or even if there are four in the formation, there are often attacking full backs which are encouraged to get high up the field.
Below is a diagram of what the average game looks like for a college goalkeeper playing 90 minutes.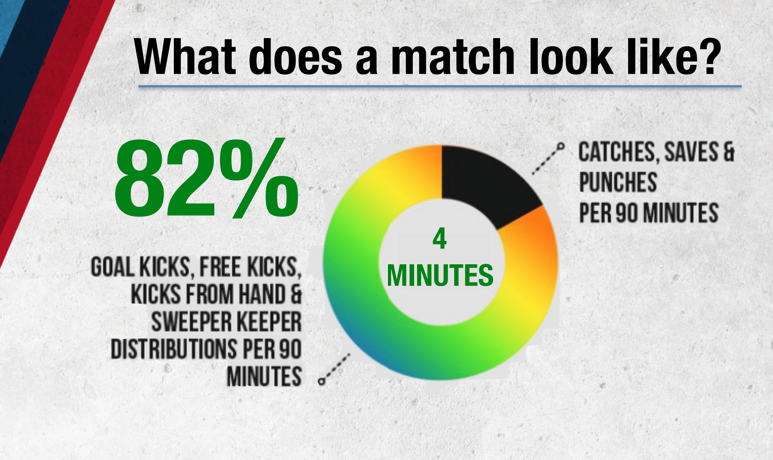 Goalkeeper has possession of the ball for just 4 minutes
18% of the game is the bits most people associate with goalkeeping – Catches, saves & punches
82% is distribution related – More than when I wrote an article called Back Pass – Facts"
On average, the goalkeeper is expected to make 2.6 saves per game & around 30 passes. The key is to ensure the 2.6 saves are saves and not goals and that as many of those 30 passes are as accurate as possible.
THERE ARE THREE TRENDS IN THE MODERN GAME ARE MOST COMMON
1 – An increased importance of distribution
2 – The ability to deal with quick transitions, both denying the opposition and also setting up a quick transition for your team
3 – Crosses are now rarely floated into the box. They are now whipped in quicker to "Second 6yd box" between 6yd box and the penalty spot or pulled back.
THE GOALKEEPER'S STRENGTHS / WEAKNESSES, AS WELL AS THE TEAMS, SHOULD BE CONSIDERED IN A STYLE OF PLAY. BOTH ATTACKING AND DEFENDING.
Here are some examples:
A fast team, looking to counter-attack requiring the goalkeeper to distribute quickly beyond the oppositions back line.
A team that builds from the back requires a goalkeeper comfortable to play from the back accurately and provide a number of different ranges
A goalkeeper who is comfortable playing high will enable the team to go with three at the back.
It is often easier for the coach to change the goalkeeper to fit the needs of the team style than for the coach to adopt a style that is best for the goalkeeper
THE AVERAGE POSITIONING FOR A SAVE MADE BY A GOALKEEPER IN THE PREMIER LEAGUE IS THREE YARDS OUT
With the trend to now whip in fast, low crosses or to pull the ball back, goalkeepers are tending to drop further back and provide more reaction time than to step up and narrow the angle. New balls provide a higher velocity and more movement requiring this reaction time.
Goalkeepers are now taller, and more athletic which enables them to block more of the goal when they are set and have enough reaction time. In fact, goalkeepers are required to be amongst the top athletes on the team.
DUKE GOALKEEPER ( Male )
Height / Weight – 6′ / 180lb
Vertical Jump – 32″ (Ranked #3 on team)
Broad Jump – 9′ (Ranked #3 on team)
40yd dash – 4.8secs (Ranked #5 on team)
PENN STATE GOALKEEPER ( Female )
Height / Weight – 5'11 / 145lb
Vertical Jump – College improvement = 7.5″ (Ranked #1 on team)
Broad Jump – College improvement = 11″ (Ranked #1 on team)
40yd dash – College improvement = .2secs (Ranked #3 on team)
IT IS OUR JOB AS GOALKEEPER COACHES TO BEST PREPARE GOALKEEPER FOR THE GAME.
There are differences in the demands of each stage of goalkeeper development. It is our job as goalkeeper coaches to make sure that the goalkeeper understands what is expected of them and to also incorporate the relevant aspects of each theme of goalkeeping.
Servers should be hitting moving balls as that's what happens in games
Goalkeepers should face a variety of servers for the same practice or drill to get used to adjusting to different speeds and trajectories of the ball that different servers bring
After saves are made, a transition should be incorporated in the release of the ball
A backpass scenario can be provided prior to most saves
DESPITE OUR SPECIALIST TRAINING, IT IS IMPORTANT FOR GOALKEEPERS TO BE INCORPORATED INTO TEAM PLAY
As stated above, a team may have to adopt a style based on their strengths. It is important that the team know the goalkeeper's strengths and weaknesses so they can better deal with them.
It is just as important for the goalkeeper to know the team's strengths and weaknesses. It may be that the goalkeeper works out that the left back always cuts in because they are right footed. It might be that one central defender is more comfortable with the ball at their feet than the other.
The goalkeeper should use time with the team to get to gel in a relationship.
For any questions on the above, please do not hesitate to reach out. Leon@GoalkeeperHQ.com