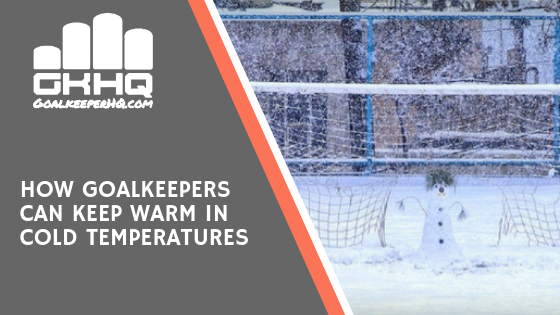 Often, with games in the New England area being played in late November, December and March, I find myself constantly having to remind goalkeepers to keep warm in cold temperatures. This applies to practices and games and if you are the starting goalkeeper or are sitting on the bench.
Goalkeepers, more than any other position, have to keep their core body temperature up as they may have periods of inactivity.
A drop in the core temperature of the human body can result in numb hands and slow coordination – Obviously detrimental effects for goalkeepers.
Practice & training:
Use all necessary warm clothing to start the session. Layers are key with a water proof jacket as the top half layer.
Any practice on a cold day should should be high tempo meaning that goalkeepers may need to shed layers. Be ready to add back on to these layers if / when the practice tempo slows down. i.e. – game play at the end.
Hat
Snood
Warm compression shirt
Training shirt x 2
Training top ( long sleeve )
Water proof jacket
Compression shorts / pants
Training shorts
Goalkeeping pants
Game day – Playing:
Goalkeepers can take advantage of the fact that goalkeeping uniform often has long sleeves and pants are acceptable.
Use hand / foot warmers prior to warm up. It is harder to get hands and feet warm than it is to keep them warm
Although a goalkeeper should not be playing with a hat on, there is nothing wrong with wearing a hat for warm up to keep body heat in.
Get a good warm up in. a)before you do your goalkeeper warm up routine b)before the game.
If the ground surface is wet, you should warm up and have separate kit to play in.
Take every advantage to be on the move during games. Be involved, but also get quick movements in when the ball is up the other end of the field.
Dry kit to play in ( Change after warm up if necessary)
Snood can be worn, but hats should not be worn for games
Layer up, with a good warm compression base layer.
Multiple layers of shirts are allowed, but allow full range of movement
Surgical gloves are good to wear under goalkeeper gloves to keep hands from getting cold / wet. ( powder inside stops sweating )
Have additional clothing and gloves for second half
Towel to wipe any excess water if wet.
Game day – Sitting on the bench:
Substitute goalkeepers have an important role to play to ensure the starting goalkeeper is suitably warm. The sub goalkeeper should help, rather than hinder the starting goalkeeper during warm up and be ready to perform. The sub goalkeeper should also be aware that in cold temperatures, injuries are more likely to occur and they should have the mind set that they need to be ready, as per the article [Waiting in the wings]
Sub goalkeepers, like the starting goalkeepers should have dry clothing to change into after what should be a rigorous warm up with the starting goalkeeper. There is nothing worse than sitting on the bench getting cold from your own sweat!
Dry clothes / kit for sitting on the bench after warm up
Hat should be worn
Layer up in such a way that you are ready to play if called upon
Thick bench coat ( if not already provided )
Use hand warmers whilst on the bench
Pants should be worn whilst worn on the bench.
Keep warm with sprints and movements when coach asks players to warm up.
New addition – Keeping hands warm –
This question was asked specifically via e-mail. Here was my answer.
Surgical gloves are a thought. They are thin enough to wear GK gloves over the top.
For my HS GK this week I have had hand warmers for her to wear prior to warm up.
She then does warm up and whilst final team talk is taking place and national anthem, she has the hand warmers again.
At half time I have a new pair of hand warmers prepared for her to use for 10 minutes. She then goes out in second half with warm hands.
It is important to keep hands moving when cold – in a clenching fashion or flicking of your fingers style.