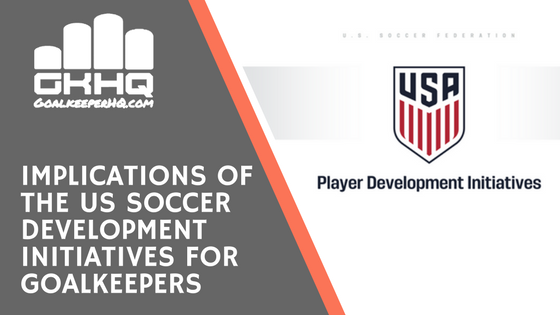 Back on the 1st of August 2017, the following article came out from US Soccer: "Five things to know about U.S. Soccer Player Development Initiatives"
I have been meaning to share this article but did not get around to it. Now that the spring season is around the corner, I thought I would dig into the article to see how it affects goalkeepers, especially as this is the last season in which any grace period to transition will be over.
What are PDI's?
The Player Development Initiatives aim to create an environment for youth players to grow and develop their soccer abilities. The most notable PDI includes small-sided game standards. Small-sided standards are regulations for youth games played with less than eleven players on each team that include field and ball size, game length and special rules. Fewer players on the field will allow players to be more involved and provide more opportunity for development. The PDI for small-sided standards of play will be implemented across the country.
BIRTH YEAR REGISTRATION – REGISTER PLAYERS ACCORDING TO A JAN. 1 TO DEC. 31 TIME FRAME
For goalkeepers that were born in September – December and used to being the oldest players on the team, they will find themselves playing a year up and being one of the youngest.
Implications:
The implications for these goalkeepers are both physical and psychological. Playing up will, will most likely mean that the goalkeeper will be playing against taller, stronger, faster players with shots coming in harder and possibly further away. These goalkeepers will also find that they will be playing with players in a higher school year, which may affect the goalkeeper's confidence in communicating and presence. By having a uniform age range across the country also means that tournaments and showcases are played with same age players.
SMALL-SIDED GAMES – DEVELOPMENT PHILOSOPHY AND PLAYING STANDARDS FOR PLAYERS 12 AND YOUNGER
The small-sided philosophy is aimed to develop improved skills with the ball and to develop intelligence with and without the ball. The uniform standard aligns with the physiological needs of the players.
Implications:
The small-sided games provide more touches for the goalkeeper and encourage the goalkeeper to make more selection of passes when distributing. The goalkeeper also becomes more of an option to pass back to. The goalkeeper should be ready to be the quarterback of the team, an article which I wrote previously.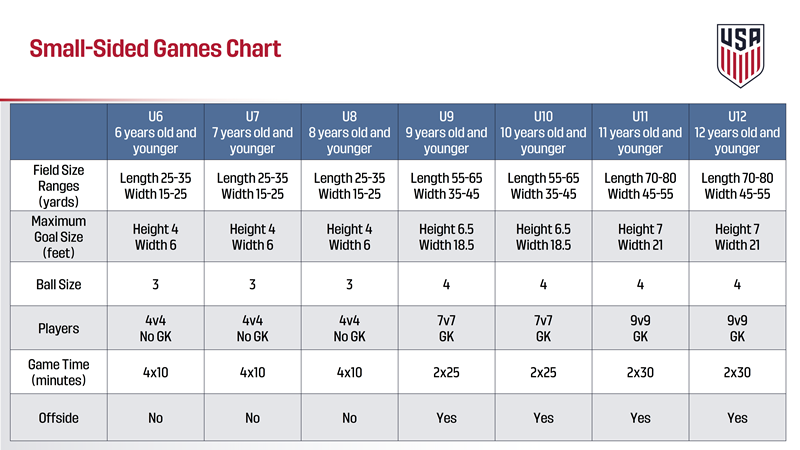 The small-sided games also mean smaller fields and smaller goals at the U9 & U10 age groups as goals are changed from the old 8v8 size of 7ft x 21ft to 6.5 x 18.5 This is great for smaller goalkeepers to adapt to.
For the full resource pack on the initiatives from US Soccer, please see this link: https://www.ussoccer.com/coaching-education/resources/us-soccer-player-development-initiatives