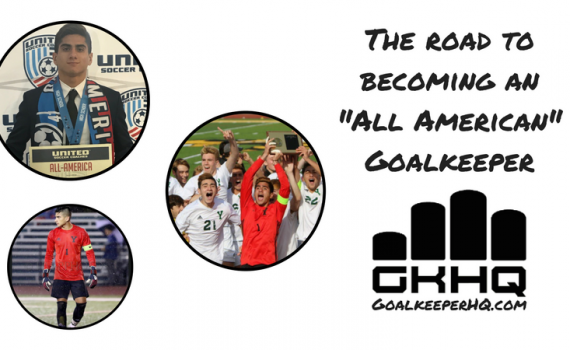 The recent Philadelphia Soccer Coaches Convention was a great learning tool, but also one to celebrate achievements. For one young man, whom I have had the pleasure of working with, it was an opportunity to pick up his recognition of becoming an "All-American" player.
The United Soccer Coaches ( Previously the NSCAA ) announced in December the 127 players ( 67 boys & 60 girls ) who had been recognized across the country for their efforts and performances throughout the fall of 2017 in their High School season.
The players were formally acknowledged for their accomplishments at the All-America Luncheon on January 20, 2018 at the Pennsylvania Convention Center in conjunction with the 2018 United Soccer Coaches Convention.
Mauricio Arango, a senior from Yorktown Heights, NY was one of three goalkeepers chosen for the boys.
I had the pleasure of working with Mo when I was the goalkeeper coach for Everton FC Westchester as part of the Development Academy. We struck up a great relationship from the first session, which I recall was just him and myself as the note had not gone out to the teams that there was going to be goalkeeper training that night.
Mauricio has some great training qualities that can be emulated by all goalkeepers.
He is always on time to practice and prepared
He gives 100% to each session, even if he is tired
He is good to have as part of the training because of his hard work, other goalkeepers try to reach his effort, making the session more enjoyable for all involved
Mauricio communicates with the coach and with the other goalkeepers during the session. Either to ask questions or to encourage the other gk's with a "well done"or a "good save"
Here is Mauricio's highlight video.
I asked Mauricio how and why he may have got picked for such an award.
"I play for Yorktown High School in Westchester, New York and as a team, we had a great year. We won the Section 1 championship for the first time in 27 years and for the second time in school history. We won our region semi-final game and reached the region finals, which is the equivalent to state quarterfinals, only to lose to Ithaca High School"
So, it helps that your High School had a good year. How did he do personally?
"Personally, I recorded 11 clean sheets and only allowed more than one goal on three separate occasions. I won MVP of the League, I was voted the Section 1 Class AA MVP of the playoffs, and I won the Section 1 Player of the Year. I received All-Section, All-State, All-Region, and All-American honors as well."
That is impressive! It's starting to tie in now… The clean sheets are both good stats and help the team to get points. It is the combination of winning and securing the shutout at the back that starts to get people to take notice. I'm sure that wasn't the only thing. What attributes did you bring to the team to help you stand out?
"I think what got me recognized was my leadership on the field. I knew I could perform game after game but it was my leadership and my presence on the pitch that elevated my game even more. I was also always one of the most intense players in the field, I cared so much about my teammates and the overall outcome of the game that I couldn't accept defeat. That's what really helped me get recognized."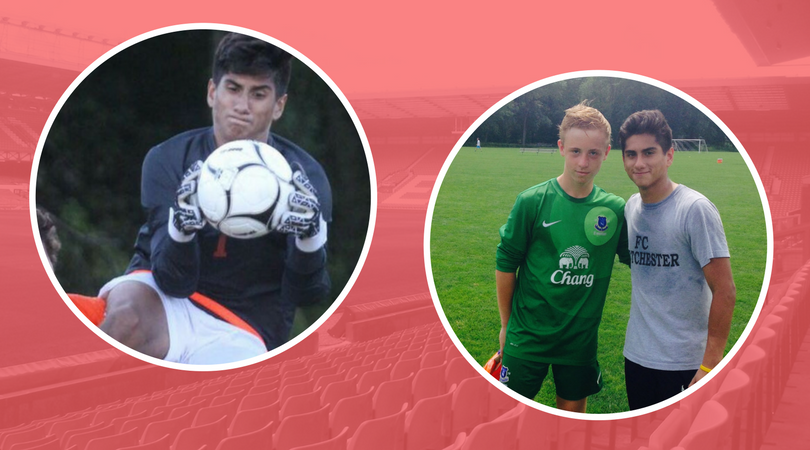 Mauricio in action with his High School team (left) and at the Goalkeeping Residential Camp with team-mate Cam. Two success stories as one plays High School and the other the Development Academy with NYCFC.
Your team must have been pretty good. Were you called into action much and did you make any crucial saves?
"In the Section Semifinals against Arlington HS at their home, we were up 1-0 with about 10 minutes left. I made three saves in about five minutes when they were pressuring us. They couldn't find the equalizer and I think that motivated the team into closing out the game and going on to win that game and going on to win the Section final. In the season, I probably made between three and eight saves in a game."
You have played US Development Academy soccer and High School. What would you say are the differences?
"I think the biggest difference is the pace of the game and the intensity of the training sessions. The pace at which the Academy games are played is much faster and it demands quick thinking and quick decision making. The training sessions for goalkeepers are also more intense at the Academy. You usually don't have a goalkeeper coach at High School so it can be difficult at times to keep that high level of intensity when you are running your own sessions.
Why did you make the decision to play High School soccer?
"All my friends were playing High School sports and I felt that I was missing a great opportunity to make friendships and to make memories. I also knew that my High School team was one of the top teams in the section so I didn't feel it was a big step down in quality."
What would you say is the weakest part of your game and how did you deal with it or disguise it during the season?
My weakest part of my game would have to be my distribution and one on one situations. I disguised it by distributing as quick as I possibly could. As long as the ball was out of my hands and into the feet of my teammates I was happy. My distribution did progress as the season went on so it didn't become a detriment to my game. For one on one situations, I learned to anticipate through balls and that made it easier to collect balls and to cut out attacks.
How was the actual ceremony in Philadelphia?
"The All-American ceremony in Philadelphia was an amazing experience. It was great to meet top quality high school players from all across the country. It felt great getting recognized as a goalkeeper too because we usually don't get much love. It was also great to see all the college level athletes getting recognized, which really motived me to work hard in my future endeavors, whether that's it's soccer or in life. The ceremony was an unforgettable experience. "
What are your college plans?
"I will be attending Quinnipiac University. I have been offered a spot on the team."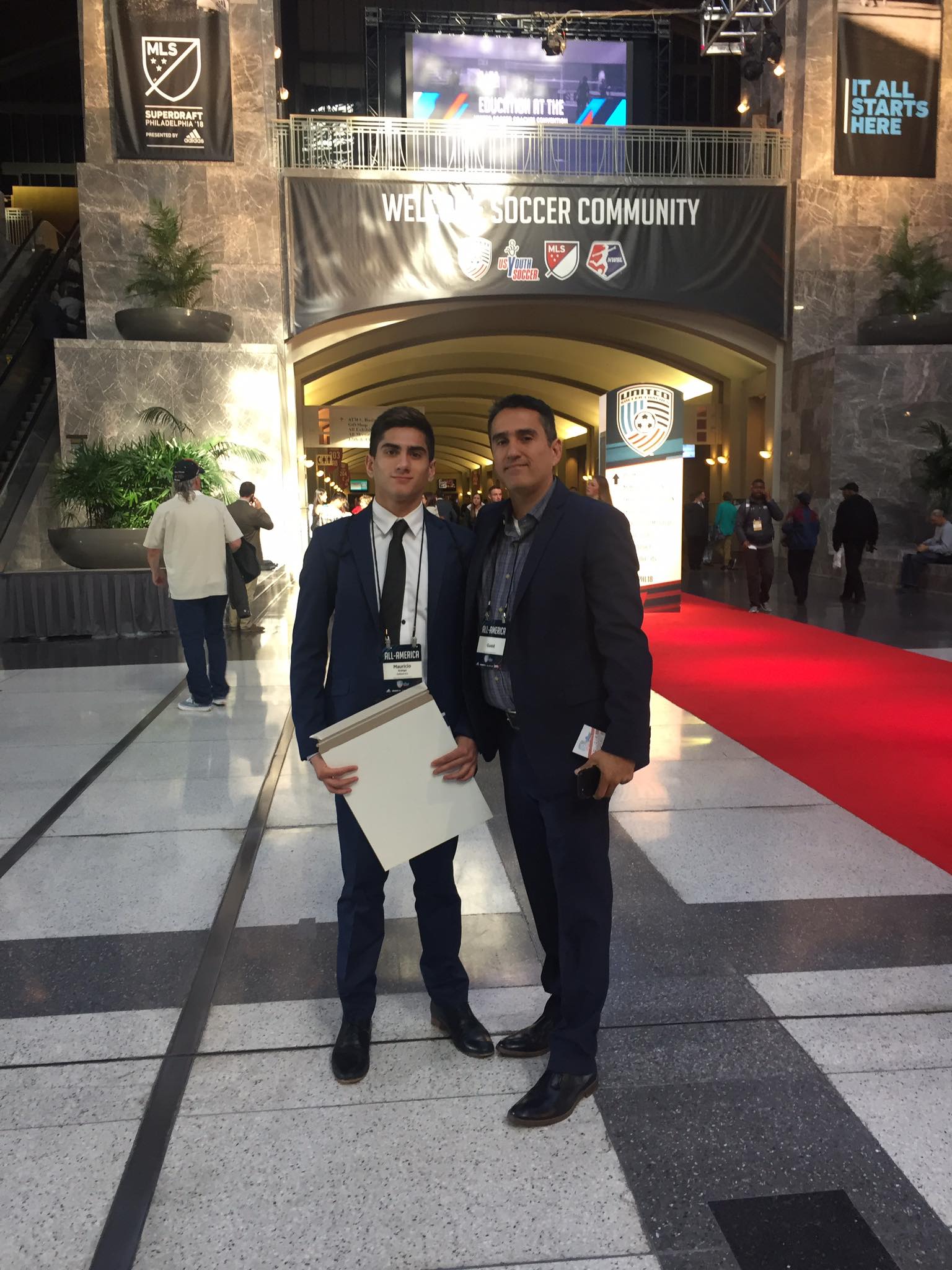 Mauricio with his father and his award at the United Soccer Coaches Convention in Philadelphia.