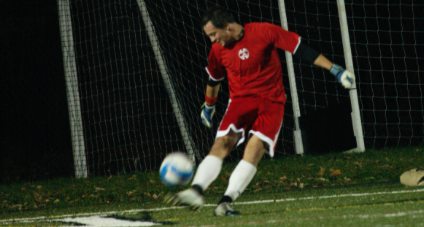 The goalkeeper is the last line of defense, but also the first line of attack. (Hence the name of the goalkeeping gloves L1)
The goalkeeper, through distribution can dictate the tempo of the game
Distribution accounts for for than 60% of goalkeepers role. *
Distribution from feet accounts for around 32% of distribution *
Goalkeepers use of possession should compliment the team's strategy & system of play.
The Goalkeeper should be a soccer player first and have in addition, the knowledge and ability to play in goal.
That fact, as well as the fact that 71% of a goalkeeper's distribution in a game do not involve the hands requires the goalkeeper to be competent with the ball at their feet and the back pass situation.
With good vertical play and a confidence to play with feet outside the area, the goalkeeper's position can lead to an extra player advantage on the field.
The best example of a modern day goalkeeper with this trait is Manuel Neuer.
See related articles
Breaking down the Courtois back pass mistake
The importance of a good first touch from a backpass