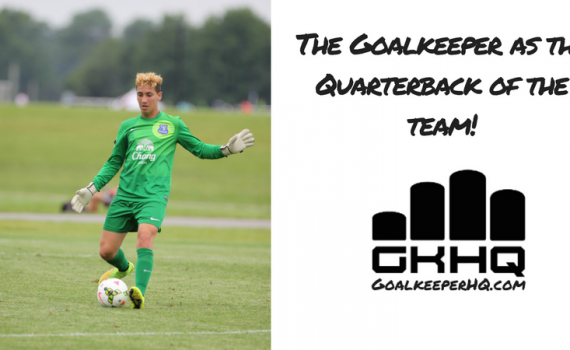 I have spoken to many of the Goalkeeper HQ community about the importance of the goalkeeper being comfortable with their feet. Those that have read my coaching philosophy and expectations know that despite there being so many topics to cover as a goalkeeper, distribution in some shape or form will be covered in my sessions. Why? Because the goalkeeper is not only the last line of defense, but now, the modern day goalkeeper is also the first line of attack. (The inspiration for our L1 range of Goalkeeper Gloves)
It is as important for us as goalkeepers to be able to play the ball out of the back as it is for a quarterback not to throw interceptions or get sacked.
I have provided other articles regarding how we can control the tempo from goal kicks, but we also get to dictate the style in which the team play. Do we Hail Mary every time? Do you go short? Do you get rid of straight away or do you hold on?
There are some important coaching points when playing out of the back.
Be in a position to play early if required
Be comfortable with left or right foot to avoid being read.
Have a range of passes in your locker – Long or short, Driven or lofted
Communicate with players
For all his faults this year, Claudio Bravo was brought in to Manchester City for one reason…… to provide the first line of attack to the team. This video below shows both how often he has to deal with the ball at his feet, and how good he is as the Quarterback of the team.